Merchandise and Licensing
I'm a huge Yosemite Sam collector. Apart from the expensive Animation Art, I collect most anything else with Yosemite Sam on it. My collection is quite large. I'm attempting to construct a list of everything I've got. I'd appreciate any tips where I can get new and exciting Sam items. There is a lot of merchandise out there. There are items of clothing, a cookie jar, storybooks, comic books, colouring books, dolls, figurines, sculptures, artwork, keychains, coffee mugs, drinking glasses, watches, a clock, a Pez candy dispenser, ink stamps, tattoos, license plates, mudflaps, a windshield sunscreen, jewelry, pins, a water globe, posters, a salt-and-pepper shaker, videos, a record album, video games, a screen saver, fridge magnets, a Halloween mask, a wine stopper, a chess set, and plenty more! Sam stuff may not be as common as things for Bugs, Daffy, Taz and Tweety!, but I pity those who are looking for items with Speedy, Marvin and Foghorn representations.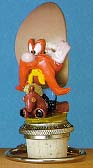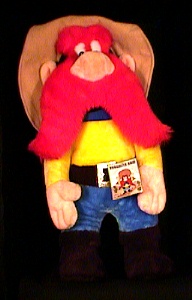 The best place for Sam merchandise is on eBay, the Internet auction service.
I've found many pieces of my collection there.